Frank Lloyd Wright | Frank Lloyd Wright Trail | Wisconsin
Frank Lloyd
Wright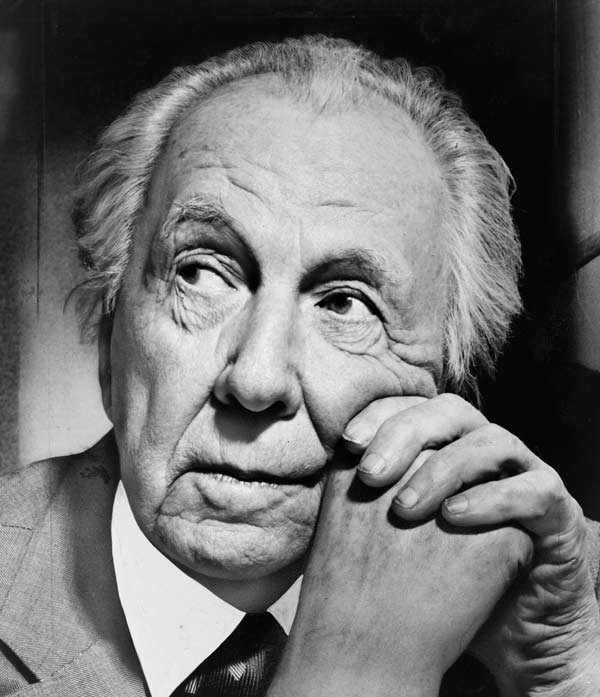 The modern architectural style of Frank Lloyd Wright is an intrinsically American style sometimes referred to as "organic architecture" which expresses a deep understanding of the landscapes surrounding his built works. Early in his career, he worked with architect Louis Sullivan whose simpler design aesthetics strongly influenced Wright.
Wright went out on his own in 1893, designing homes and public buildings in what became known as the Prairie Style of architecture. The residential built designs were often single-story structures with low, pitched roofs, and long rows of casement windows. His designs incorporated limestone walls and hearths trimmed with white oak and tidewater red cypress and attracted attention across the United States and abroad. Many would be designated as National Historic Landmarks.
Beginning in late 1909, Wright devoted himself to writing and teaching, publishing significant architectural tomes, and founding the Taliesin Fellowship near Spring Green, WI. Soon he and his apprentices set up Taliesin West, a home and studio in Arizona where they worked in the winter months.
Wright's later career included a design for the Imperial Hotel in Tokyo, the residence named Fallingwater in southwestern Pennsylvania, his Usonian Houses, and several public buildings still in use, including the Guggenheim Museum in New York City.
Frank Lloyd Wright was born in Richland Center, WI, in 1867. His father was a preacher and musician, and his mother was a teacher who came from a large Welsh family that settled in the area surrounding the Wisconsin River valley near Spring Green known as the Driftless Region. As a teen, Wright spent his summers working on his uncle's farm and learned to appreciate the valley's landscape and nature's rhythms.
Wright studied at the University of Wisconsin, then left Madison for Chicago to work as an architect. During his time in Chicago, he worked for three different firms, and spent six years working directly under Louis Sullivan. Eventually, Wright formed his own architectural firm designing both private and public commissions.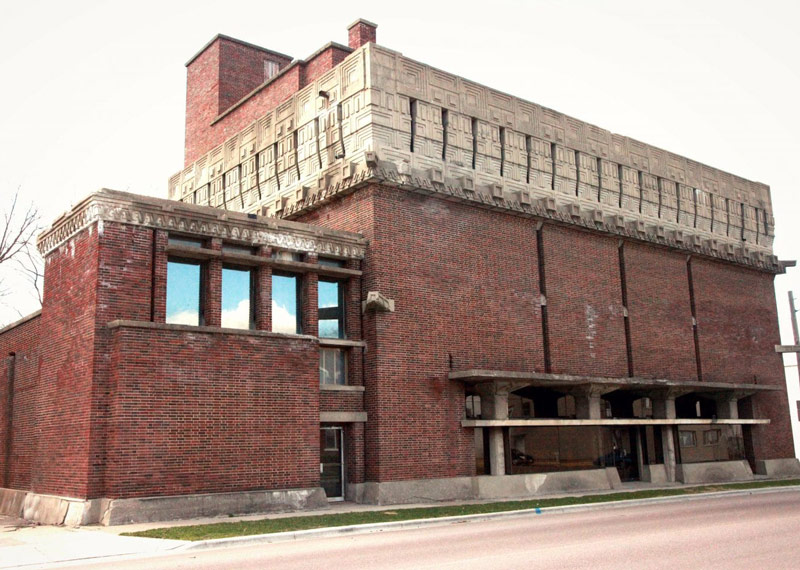 A.D. German Warehouse in Richland Center, WI
(Photo: Teal Tizzy Photography)
Throughout his life, Wright was drawn to the Spring Green area, and in 1911 he returned to the area and created a home and studio known as Taliesin. In 1914, a servant set fire to the home and killed seven people including Wright's partner, Mamah Borthwick. Despite the setback, Wright rebuilt Taliesin.
After several years working from a Los Angeles office, he returned in the mid-1920s and eventually founded an architectural school at Taliesin, where he created an apprenticeship program including not only architecture and construction, but farming, gardening, cooking, and the study of nature and the arts. The program in many ways replicated his own formative years in Wisconsin.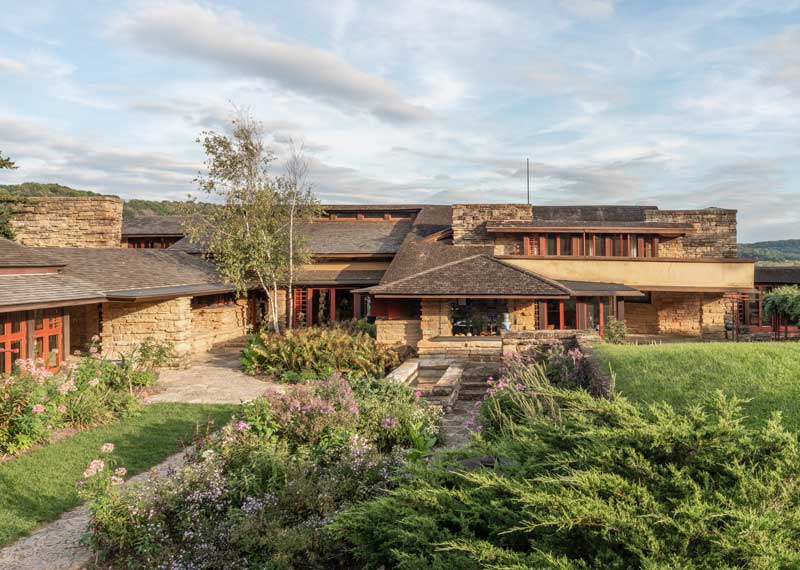 Taliesin in Spring Green, WI
(Photo: Tim Long)
Among the many buildings Wright designed in Wisconsin are homes, schools, churches, and rural structures including the nine major sites along the trail: SC Johnson Administration Building, Research Tower, Wingspread, Burnham Block, Monona Terrace, Unitarian Meeting House, Wyoming Valley School, A.D. German Warehouse, and the many buildings on the 800-acre property including Taliesin, Hillside School, Tan-y-Deri, Romeo & Juliet Windmill, and Unity Chapel. He designed Riverview Terrace in 1953, which was built after his death in 1967, and is now the Frank Lloyd Wright Visitor Center where all tours to Taliesin depart from and includes a gift shop and cafe. It is the only Wright-designed restaurant in the world.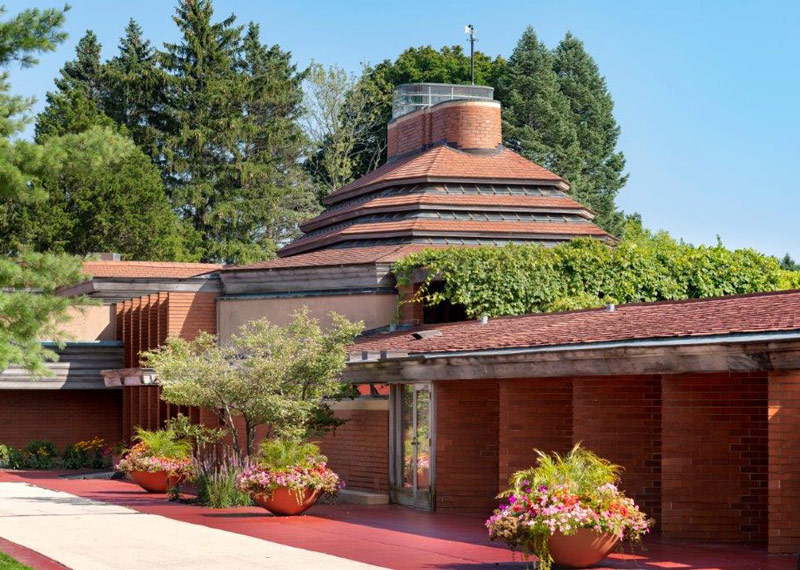 Wingspread in Racine County, WI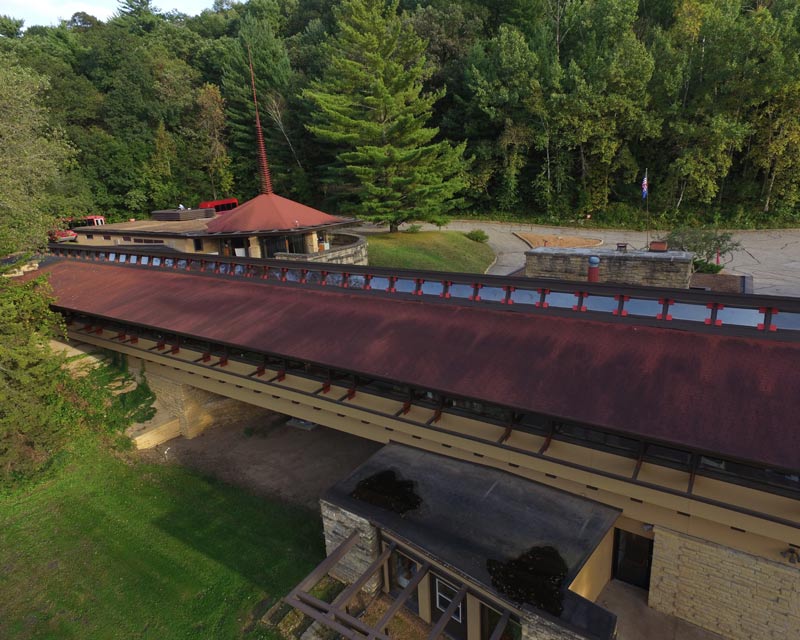 Frank Lloyd Wright Visitor Center at Riverview Terrace